WHERE TO STAY IN NAZARÉ
Heading down to Nazaré, Portugal, to see the famous big waves? Not sure where to stay? No worries – check out this guide on where to stay in Nazaré, including Nazaré's best hotels, Airbnb and campsites.
Best Nazaré Hotels / Airbnb
Have a look at the curated list of recommended hotels in Nazaré for the best experience. Finding a Nazaré Hotel can become pretty difficult once Big Waves are announced on every new channel. So be sure to sign up for our Big Wave Alert to get informed in time.
Tipp
You can always reserve a hotel that offers free cancellation. When the event is postponed, you can cancel for free and don't have to pay anything.
Nazaré Historic Beach House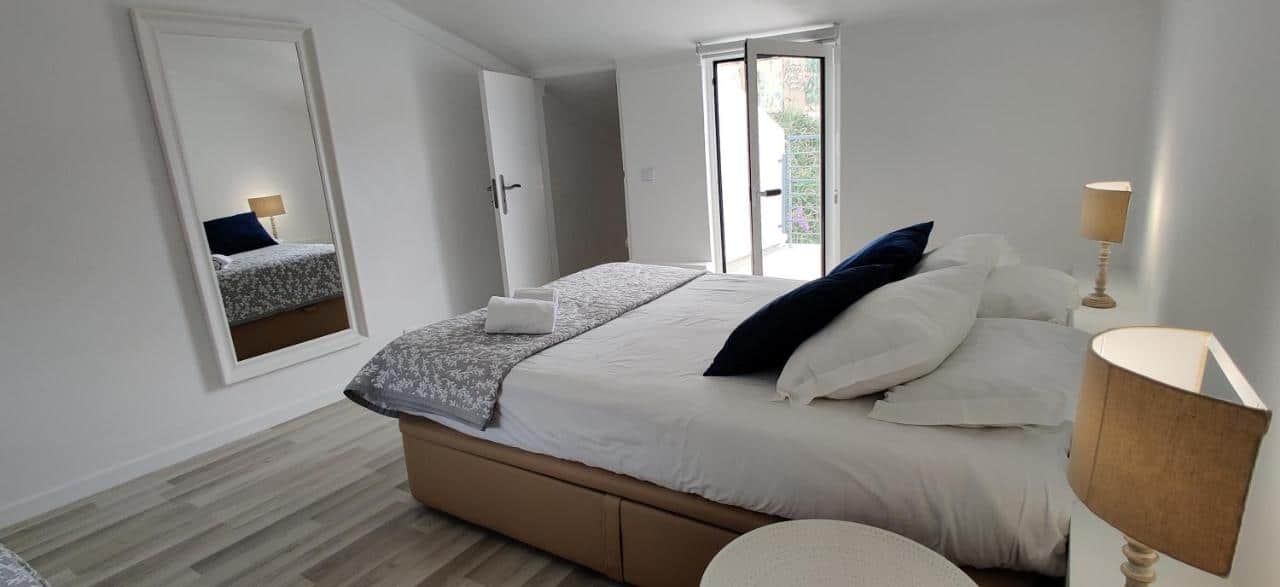 Townhouse fully furnished, with air conditioning, 3 floors, 3 bedrooms and 2 bathrooms. The house fits 8 people, so it is perfect for bigger groups that like sharing an affordable stay. It is located in the historic area of Nazaré, just 100 m from Nazaré beach. It has air conditioning, Wi-Fi, and double-glazed windows. Living room/Kitchenette fully equipped with a washing machine and fridge, dishwasher, stove, oven and water heater. In the living area, there is a 2 seater sofa bed, a dining table. The terrace has railings and views of the ancient funicular, Nazaré beach and the sea.
Hotel Praia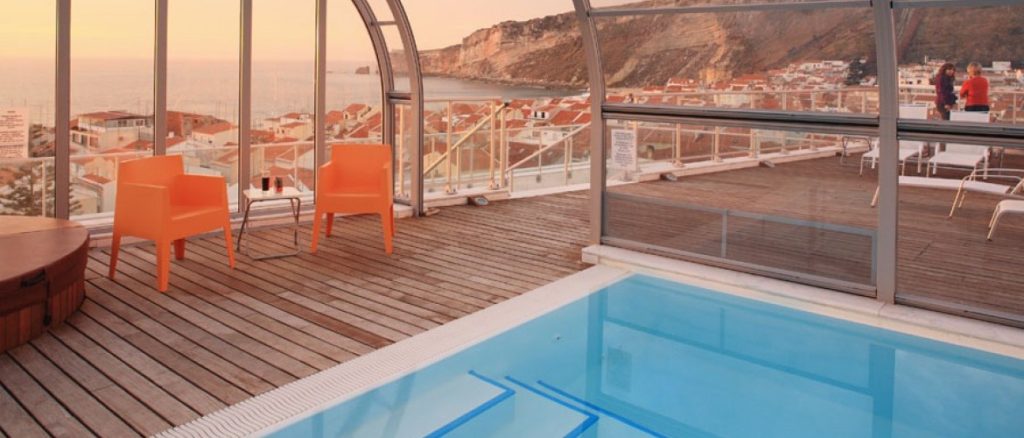 One of Nazaré's most recognised and iconic hotels, the Hotel Praia is best known for its unbeatable location. A 4-star hotel, the Hotel Praia is right by Nazaré beach and in the heart of historic Nazaré town – close to all the area's best shops, restaurants and attractions.
Guests will be pleased to know that they can also have breakfast at the hotel, as well as swim at the hotel's rooftop swimming pool, and work out at their fitness center.
Hotel Oceano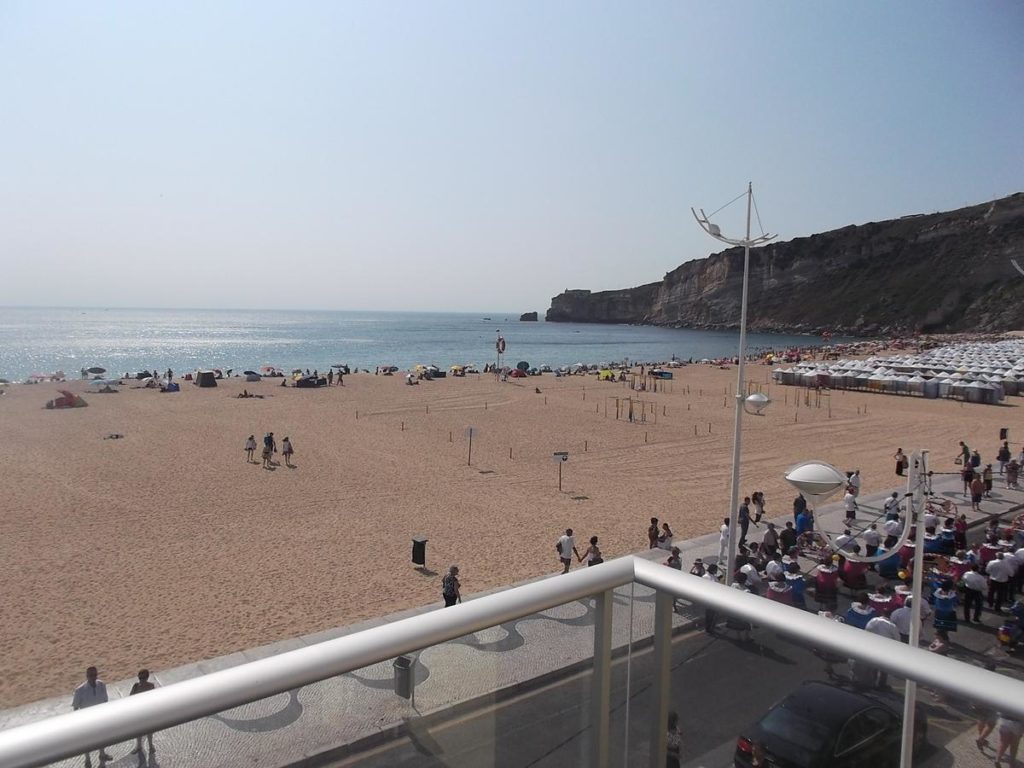 Another one of Nazaré's celebrated hotels, the Hotel Oceano is an affordable option for young travelers on a budget. This hotel has been praised for its cleanliness, comfortability and friendly staff, as well the remarkable balcony looking out into the great ocean. The Hotel Oceano is also right on the beach, and close to all major amenities in Nazaré.
The rooms here are more simply decorated without the bells and whistles of other accommodation options, but at around 34 EUR a night, the Hotel Oceano remains one Nazaré's best value hotels.
Quinta Amarela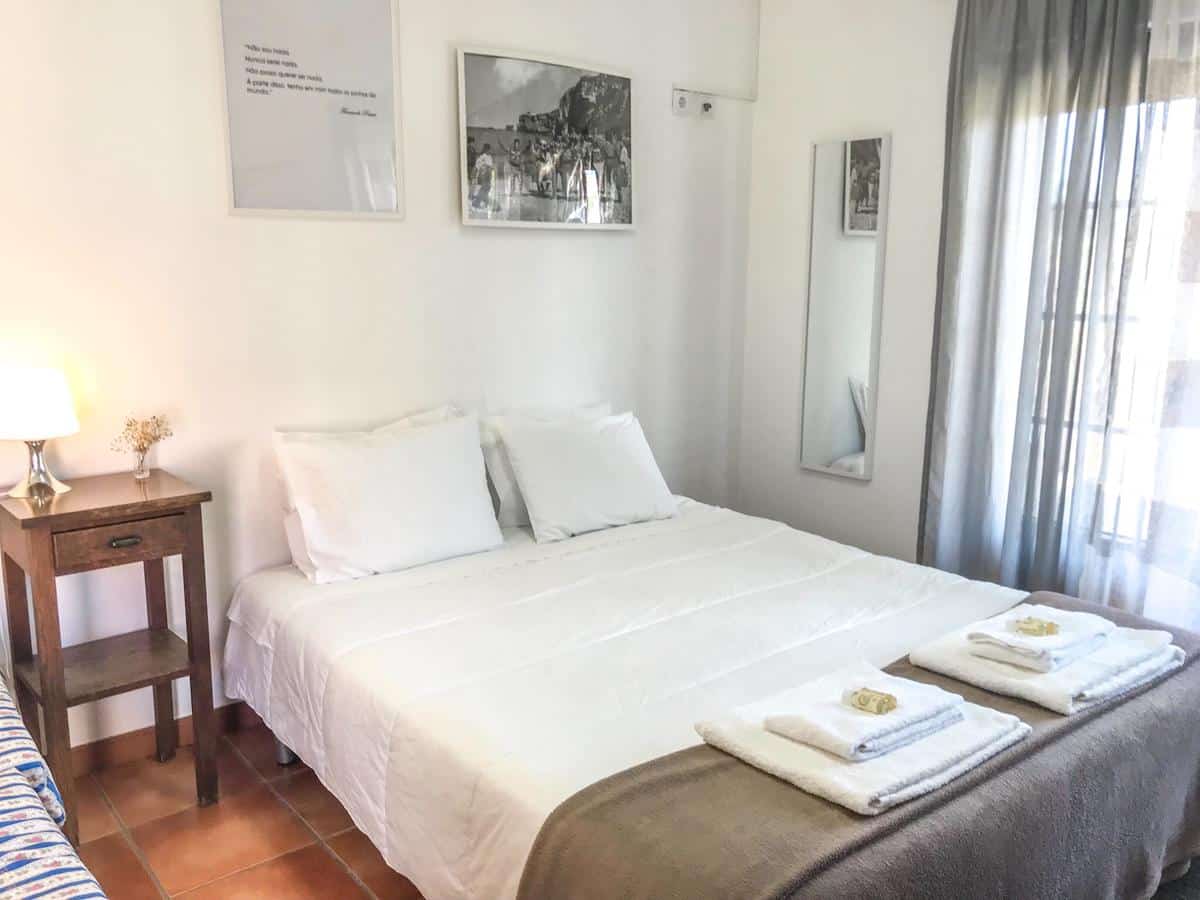 Quinta Amarela is a picturesque little guesthouse that's quietly tucked away in Nazaré's charming streets, but close enough to the beach that you'll still be able to walk and enjoy Nazaré's waters.
For those looking for some peace and quiet, the Quina Amarela is a perfect little sanctuary. Delightfully decorated with wooden panels and Bohemian ornaments, this guesthouse has a distinct 'beach vibe' that matches Nazaré's laid-back style.
Hotel Mar Bravo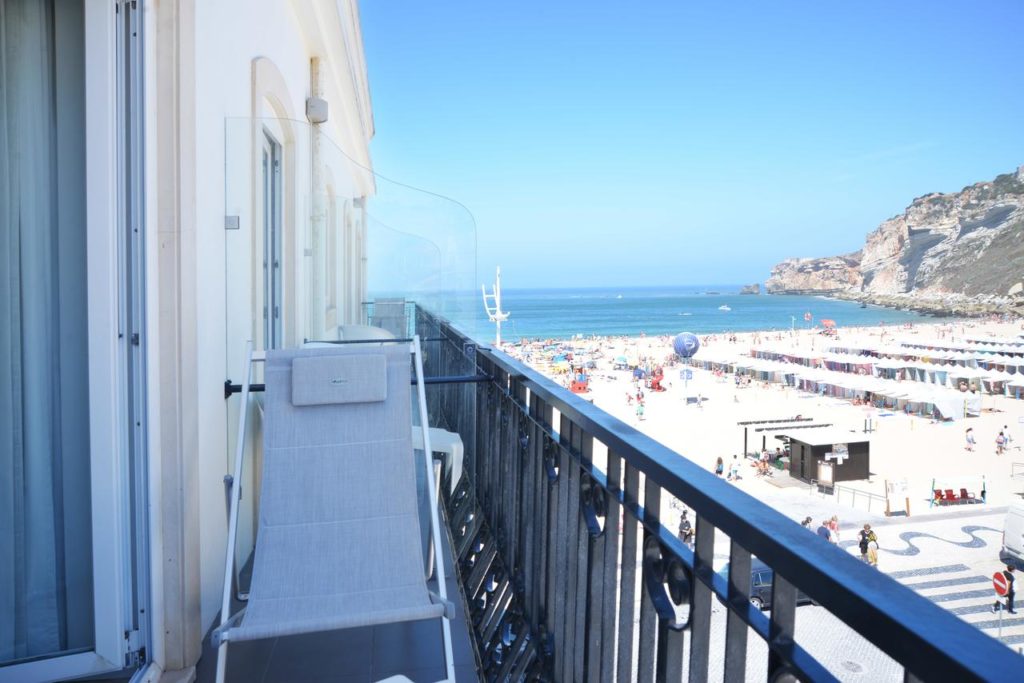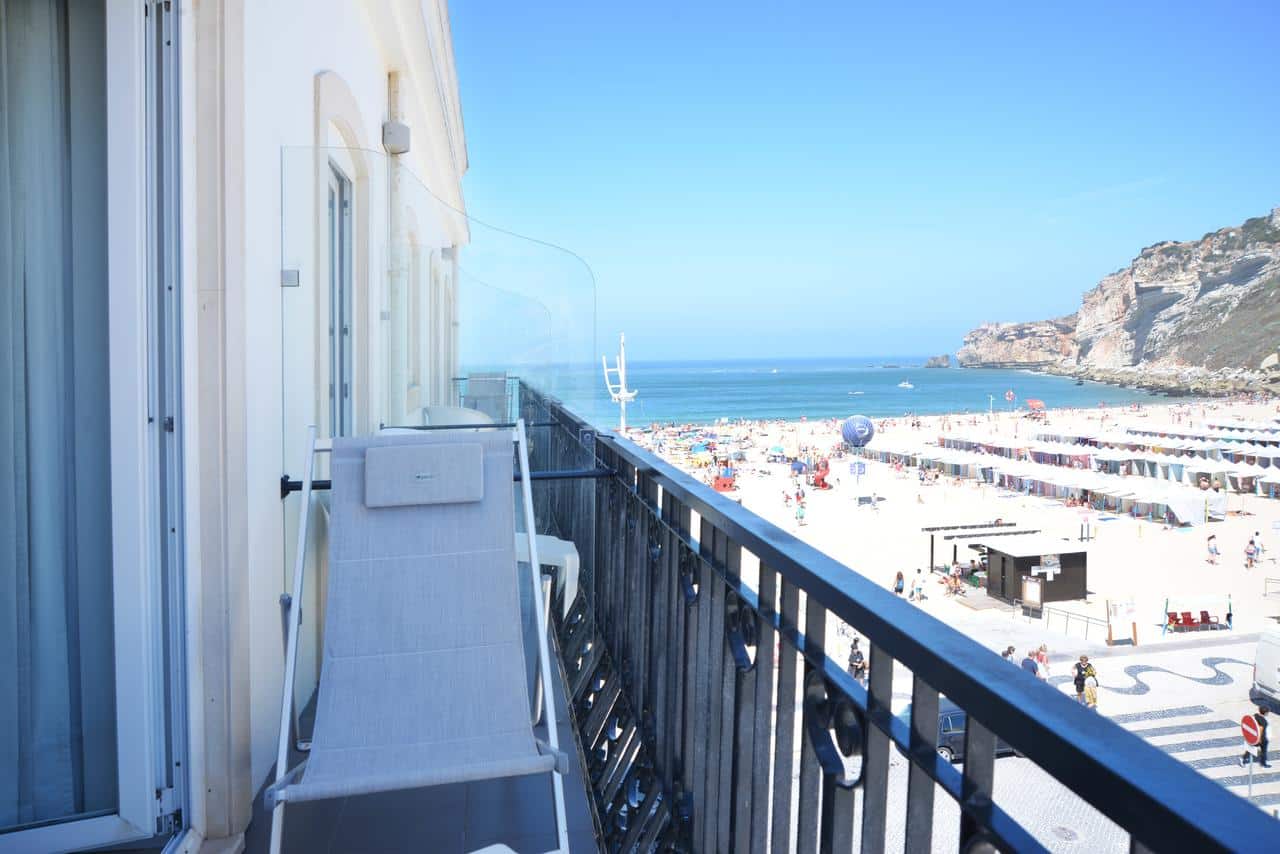 Also, one of Nazaré's most well-known hotels, the Hotel Mar Bravo overlooks Nazaré Beach and is home to one of Nazaré's best restaurants, the Mar Bravo Restaurant. A great feature of this hotel is its proximity to Farol da Nazaré – viewing point for Nazaré's famous big waves. Clean, modern and immaculately decorated, the Hotel Mar Bravo truly is one of Nazaré's best places to stay.
Zulla Nazaré's Surf Village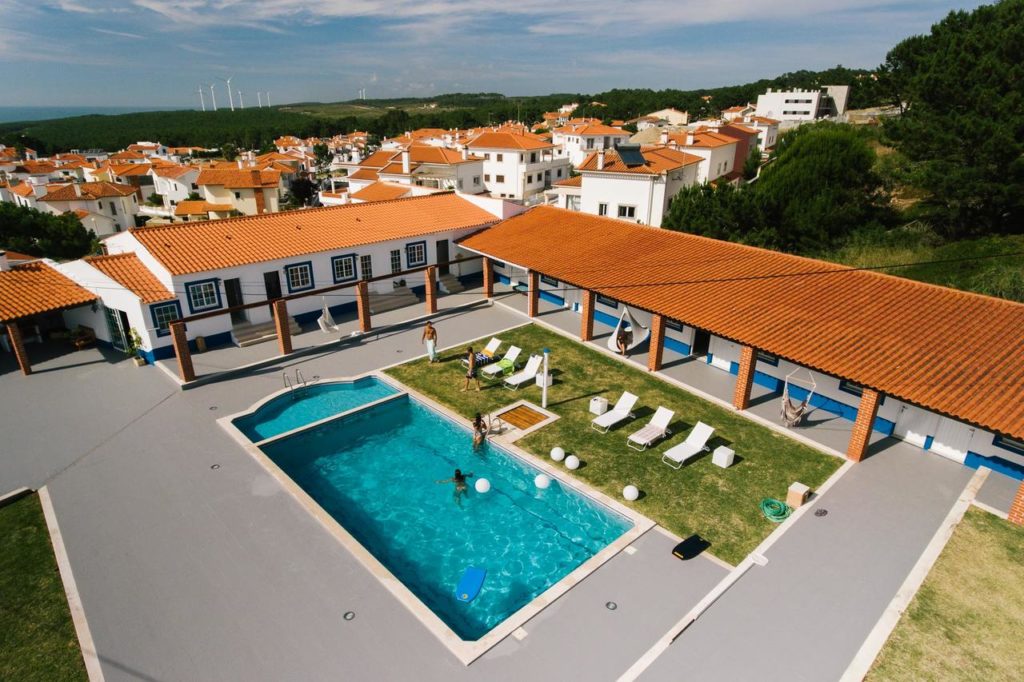 For something a little different, the Zulla Surf Village is a social experience for young travelers keen to meet some new like-minded people, as it features a large, shared outdoor pool that travelers usually hang around.
Very close to Farol da Nazaré lighthouse and some of Nazaré's must-do surrounding attractions (Sitio, Miradouro da Nazaré, Museu Dr. Joaquim Manso, Senhora da Nazaré), Zulla Nazaré's Surf Village is the perfect place for you if you want to stay a little bit further away from Nazaré's main area, while still staying close to major attractions.
You can find more hotel available for your trip on the map. Just type in your dates when you would like to stay, and it will show available hotels and prices directly.
Best Airbnb's in Nazaré
Airbnb is becoming more popular every day – especially during the COVID-19 period, people show responsibility for maintaining social distance. Therefore, it is favorable to stay in a place for yourself.
Home Sweet Praia Apartmento Areia
Cozy, comfortable, contemporarily furnished and romantic – this Airbnb presents an ideal getaway. Stylishly decorated with chic interior design choices, the Home Sweet Praia Apartmento Areia even features a bubble chair and is close to some of Nazaré's best shops and restaurants. As a bonus, the apartment is also just footsteps away from the beach, and near the famous Nazaré funicular.
Coming in as low as 50 EUR a night at some points during the year, this is a surprisingly affordable option in an outstanding location.
Bela's Homes Apartment
Another budget-friendly option, this apartment emanates a distinct, whimsical Portuguese flair – designed to make guests fall in love with its traditional charms. An older, more rustic apartment, Bela's Homes Apartment is also conveniently located just a few minutes' walk away from the beach, and a 10-minute walk to the Nazaré funicular.
Guests will adore the outdoor terrace area, large backyard, spacious living room and pastoral atmosphere. This is a 2-bedroom apartment that can host up to 5 guests.
Front Beach Apartment
The Front Beach Apartment is a special apartment on this list because of its breathtaking views of the beach. Located directly in front of the beach on an elevated position, you'll be able to see Nazaré's beautiful golden sands and bright blue waters. Known for its cleanliness and excellent location, this is self-sustaining apartment is perfect for a honeymoon or romantic vacation.
Stunning View Apartment
Now here's a little slice of luxury. Featuring opulent turquoise and golden velvet tones, lavish furniture pieces and a spellbinding view of Nazaré's beach, this apartment really is a standout on this list.
Boasting 5-star reviews on Airbnb, guests have especially praised the cleanliness, panoramic views and friendliness of the host. A more premium option, this 1-bedroom apartment can cost around 95 EUR at certain times of the year.
Swell House
With its pristine cleanliness and well-placed touches of minimalism flowing through the apartment, the brand new Swell House is a top choice in Nazaré for its ultimate convenience. Featuring a fully equipped kitchen, large living room and picturesque location, this Airbnb is also just a 5-minute walk from Nazaré's main beach and funicular that takes you up to the gorgeous area of Sitio.
With overnight stays priced at about 100 EUR, this 2-bedroom apartment is a good option for travelers with a moderate budget.
Best Campsites In Nazaré
Ohai Nazaré Outdoor Resort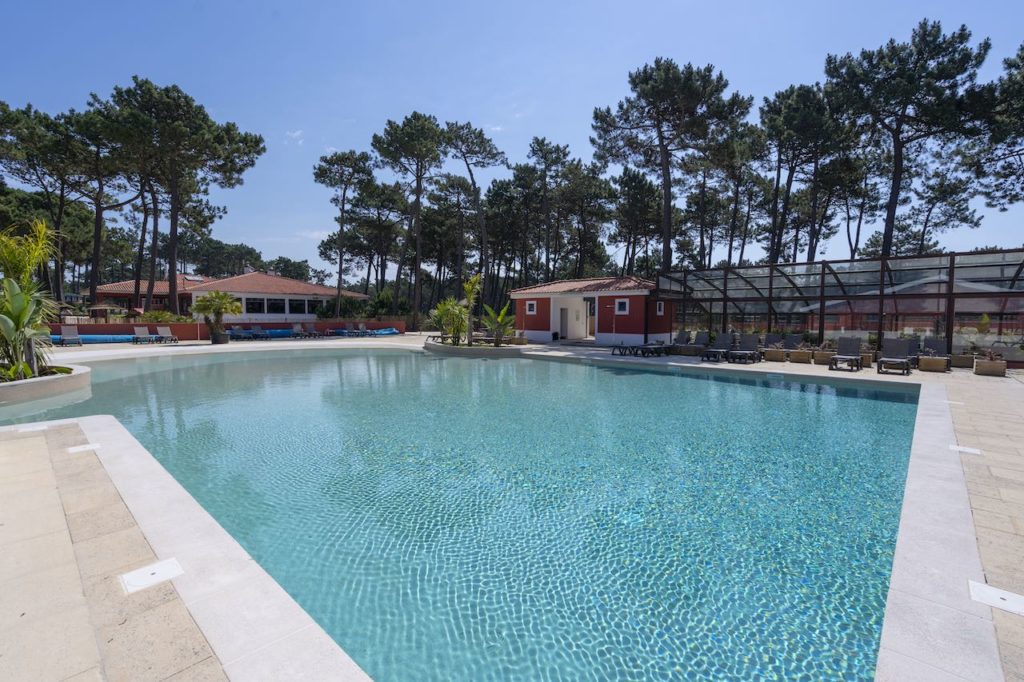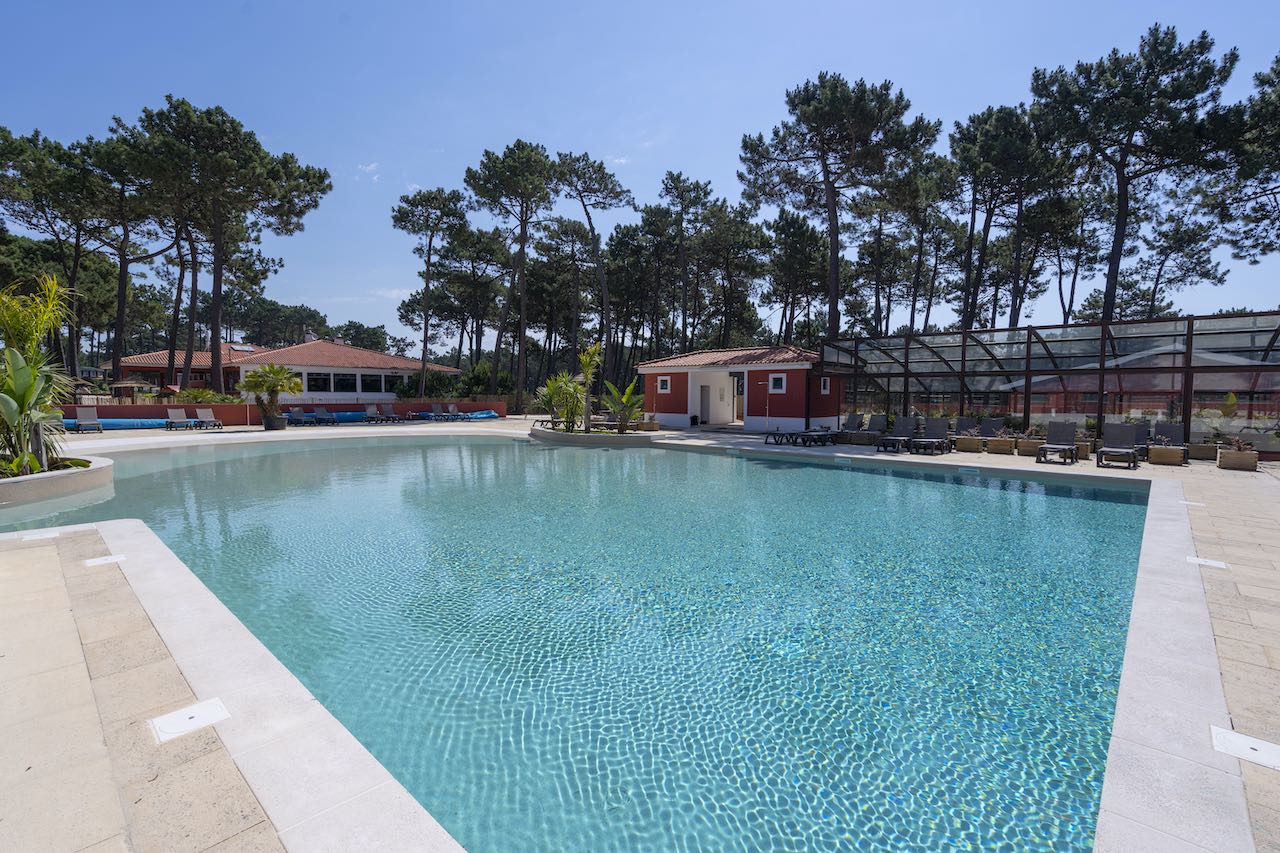 Just less than 3 km away from Nazaré's stunning wide-sand beaches, this outdoor resort is situated in the middle of a green forest – away from the crowds. Despite its secluded location, the Ohai Nazaré Outdoor Resort still offers Wi-Fi, an outdoor swimming pool, and allows dogs on the grounds.
A night at the campgrounds cost as little as 18 EUR during low season, but if you're not a fan of completely roughing it outdoors, the Resort also features bungalows, apartments, caravans and glamping options.
Campsite Orbitur Valado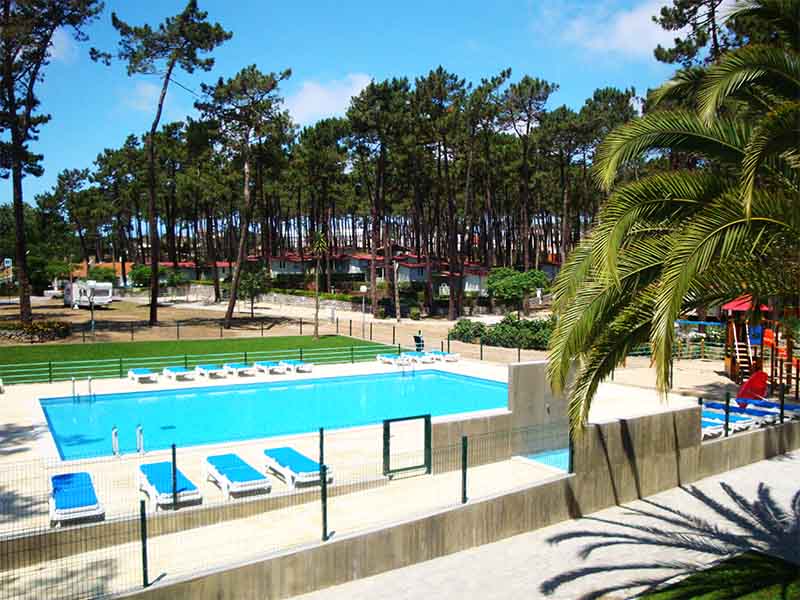 Also located in the woods, this quaint campsite is perfect for those visiting Nazaré on a budget and seeking some peace and tranquility. With mobile homes scattered around the grounds and its outdoor swimming pool, your camping experience at the Orbitor Valado won't be an ordinary one.
One of the most affordable accommodation options around the Nazaré area, a night at this campsite can go for as low as 16 EUR during low season.
No matter where you stay in Nazaré, make sure you visit the area's top sights and things to do. You can read all about them by checking out the page The Best Things to Do in Nazaré.